Upcoming MBSR Course in October-November 2021
Send and email to info@mindfulnesshub.co.uk and sign up for the
FREE ORIENTATION on
11 September 2021, 15.30-17.00 (GMT +1)
WHAT IS MINDFULNESS?
Mindfulness is an evidence-based intervention that empowers individuals to manage stress-related issues. It is a highly effective practice that helps individuals deal with difficult emotions and states of mind, that are all too common in the modern world, such as depression, trauma, obesity, addictions, anxiety, fear, chronic pain and diseases, sleep disorders, anger management, postpartum depression, reactivity, grief and burnout.
Mindfulness was introduced to the western world by Jon Kabat-Zinn, who founded the 8-week programme called Mindfulness Based Stress Reduction in the Stress Clinic of the University of Massachusetts Medical School in the late 70's. Mindfulness practice proved to cultivate resilience, nurture mental and physical wellbeing as well as empower individuals to skilfully manage situations that appeared overwhelming and challenging, without the need of therapy and medication. Mindfulness practice includes exercises that are easy to comprehend and implement, making it a widely used intervention in hospitals, schools, clinics, institutions and corporations.
Mindfulness Hub offers various mindfulness programmes empowering you to skillfully manage all stress-related issues, feel more calm, cultivate more resilience and well-being in all areas of your life.
Our consultation and training sessions are currently held online internationally.
ABOUT ESEN SEKERKARAR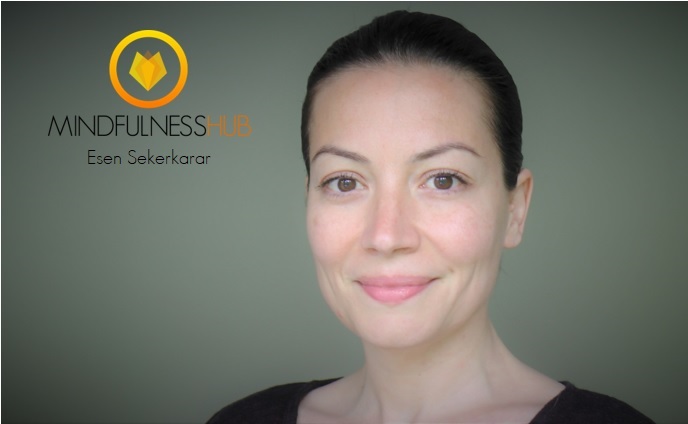 Esen is a Mindfulness & Mindfulness Based Stress Reduction (MBSR) teacher, and the founder of Mindfulness Hub. She obtained her accredited qualification as an MBSR teacher from the University of Massachusetts Medical School, where the trademarked programme was founded. She is also recognised as an MBSR teacher by Brown University Mindfulness Center in the USA.
Esen has lived and worked internationally (Denmark, USA, Turkey, Switzerland, UK) for many years, which has broadened her experience working with a wide variety of social, ethnic and academic groups. Before moving to London, Esen lived and worked in Denmark, where she managed a psychology clinic and provided mindfulness classes and training programmes to companies, institutions and individuals. She has extensive experience, not only in teaching mindfulness, but also adapting mindfulness-based approaches into different concepts and environments.
Esen is also a Neuro-Linguistic Programming (NLP) practitioner and teacher, and has been public speaking at international conferences since 2002. She is skilled at delivering training to large groups, companies, as well as to individuals. Her courses and training sessions are tailored to address her clients' specific needs.
Esen currently lives in London and offers her services both within the UK and internationally.